My yoga instructor is a dominant woman.
Well, at least I think she is. Ok, I just daydream she is.
No, not just because she's attractive. It's her tone, how she commands everyone taking her class. It's confident without being overbearing.
It's probably all in my head though. I'm associating and attractive commanding woman and the pain I sometimes fell in yoga with an attractive commanding woman and the pain I'd rather get.
Once, while I was in the downward dog position (note educational image) she came up behind me and place her hands on my hips to adjust me into the correct posture.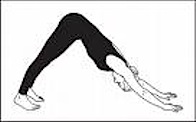 It took everything ounce of self control to not get turned on.
I haven't gone to yoga class in months however. Saving up for the Euro-trip and maybe a hint of laziness has prevented me from going.
Does she see me in those positions and have dirty thought of me? Does she imagine that the only way I'll really understand how to do the positions correctly is if she's standing behind me with a cane or by tying me into position so I'll have some kinda muscle memory?
It's a nice thought.
It makes yoga classes interesting.
Someone once suggested I try going to naked yoga. Naked yoga? That has nothing but trouble written all over it. Either there will be a bunch of guys there only going because they'd hope to see naked women doing yoga (as I'd be doing), or I'll be surrounded with beautiful naked women doing yoga and I'll get kicked out for getting turned on within the first five minutes.
Ok, within the first minute.