Yes, I joined Adult Friend Finder but not for long. I just let my membership expire.
Note to self: Always read the fine print: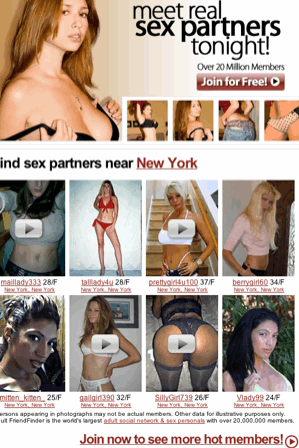 The fine print:

Grrrrrr People are always scamming my cock as a way to get my money. Why aren't there women trying to scam me to get to my cock?
Other things Adult Friend Finder should have an * for.
-The phrase "meet real sex partners tonight" may not referr to tonight, or any other night for that matter. It may however mean that you're going to "meet" other "real" people online tonight who will be having sex, and by sex we mean masturbation.
-The phrase "real people, real sex" doesn't imply that we consider you a real person.
The website seems to be filled with more spammers than most dating websites. Of all the years I've been on collarme I've had maybe 30 people trying to get me to sign up for some website. On AFF I had more than that my first week.
Here's an example. The stats of my profile after one month:

Almost every single flirt was a spam account. You can tell because when you click on it to see who actually flirted, you get a page that looks like this.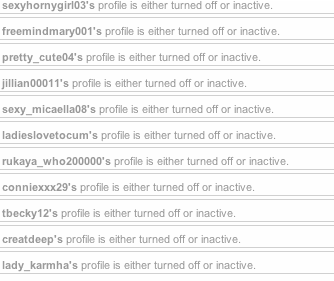 Now either all of those women met the men of their sexual dreams or someone at AFF caught on to them and they were removed.
There also seems to be more men posing as women on Adult Friend Finder. I had a few emails from "women" who replied to my message by informing me that she was seeing someone but if I wanted to get my cock sucked she knew a guy who would be all for it.
Note to self: Cancel plans for a cocksucking referral website, someone beat you to it.
C'mon people. I don't join lesbian dating sites and then apologize to women who email me saying "Sorry I met someone, but if you want your clit sucked on I know this guy…"
If you're a woman however it sounds like Adult Friend Finder might be the place for you. I've had more than a few friends tell me they had many interesting adventures thanks to AFF but the number of emails started to be a bit too much to handle. Every now and then they would delete hundreds of emails at a time without reading them because they had too many to deal with.
You can join now though and know that with my subscription lapsing, you'll have one less email to bulk delete.