She stood at the foot of the bed holding her latest weapon. A heavy wooden paddle.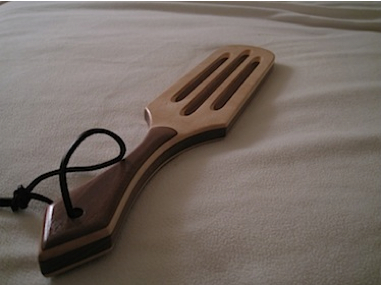 Such a simple device yet I could tell it conjured up complex ideas in her head.
"Strip"
And so I did.
I was nervous and excited at the same time. Trying not to whimper in anticipation of what was coming.
She ran her hands down my back and over my ass. Gently spreading my cheeks apart before giving me a gentle spanking with her hand.
"You need this don't you?" She asked.
I didn't realize it before she mentioned it but she was right.
"Yes" I whispered. Slightly embarrassed for some reason. Maybe because I realized yet again that she knew me better than I knew myself.
"Speak up"
I answered louder and she let out a moan.
Then she began..