So a few weeks ago, she and I moved in together.
We found a new place, a two bedroom apartment in a fairly new building. Currently the spare bedroom is being used to store boxes of things that still need to be put away but eventually it'll be used as her photo studio.
We're settling in, getting things put away, gearing up for the holidays. We're flying back to her hometown and I'll meet her family.
There's something about this space, it's hard to describe.
It's like a sanctuary.
After work I come in the door and I can just feel the weight of my day lifted off of me.
Ahhhhhhhhhhhh
After a couple of weeks of my asking, she posted a schedule of chores for me to do. My brain doesn't work in a way that allows me to walk into a room and know exactly what needs to be done. Rather than constantly asking with "what can I do?" I asked for a list.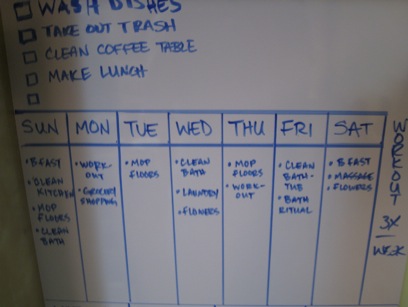 I love it!
We're planning to do a lot in our new place. Parties (kinky and non), photo shoots, having a place for out-of-town friends to crash.
The days go by so quickly here. It feels like just like yesterday I was providing service to her for the first time and I look on the calendar and it's been six months since I first walked into her old apartment.
Six months!
I can't believe it's gone by so fast.
It's been an amazing 1/2 a year and I'm excited to see what the new year brings.