Just a few items for you this post:
-If you liked part one, maybe you'd like to read how it looked from her eyes. Silly how she can write half as many words but it sounds twice as hot from her perspective. Reading her write about it makes me blush and gives me a big boost of confidence. I love being thought of as a gift for someone. MVX…Sigh.
-I won't be able to make it to Dark Odyssey, this year. My funds are more than a little tight these days and I can't justify paying for it when I could be spending my cash elsewhere. My hunt for a new job has started, it's slim pickings for a man of my talents. If only NPR was hiring.
-Speaking of radio. I'm shopping around for some podcasting equipment. I hope to have something going by the end of the year. Basically just casual talk about kink. If you or anyone you know is open to sitting down and having your voice broadcast to the masses in a free-from exchange of ideas, let me know.
-While in France, I found the opposite of Found Femdom:
Blech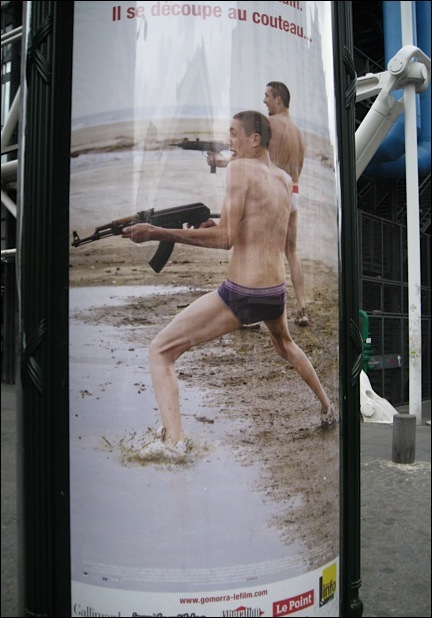 -Someone must have emailed the wrong person because I've been accidentally invited to join BestSexBloggers.com. Who knew?
-Floating World had its ups and downs. On the plus side I got to see my friend Yin give a presentation. I wish more presentations had that kind of energy to them, classes are so much better when the teacher is having fun and is really into the subject at hand. I also saw my first presentation on CBT from Suzanne SxySadist, it's made me even more curious about CBT. That was the upside to FW.
The downside was the fact that they didn't have a professional ASL translator on hand. They had someone who knew about as much American Sign Language as I know (not nearly enough) and this is a problem considering my best friend Bondage Freaky is Deaf and only went because she knew they would have a professional there. PLEASE people, I beg of you, don't over-promise and under-deliver when it comes to things like that! The guaranteed way to piss me off is to upset a friend of mine. I've cooled down (a bit) since then but I'm damn sure I'm going to quadruple-check to make sure everything is up to par with all future events she goes to.
I'll say this again so there's no misunderstanding: Floating World is a great event, the presenters are above and beyond, the people you'll meet there are fan-damn-tastic and the organizers really seem to have it all put together well. BUT….. they really messed up on getting an appropriate ASL translator. I shouldn't need to explain why having a good translator compared to an OK translator is important, but I will. It's the difference between reading about a football game in the newspaper where you can only understand every other printed word and sitting on the fifty-yard line live at the same game.
Ok…end of rant.
I'm gonna go read MVX again to put myself in a good mood.
Sigh