Ho…ly…Shit
When someone (please let me know if I can use your first name when submitting Found Femdom posts, I like to give credit) emailed me this link I had no idea I'd spend so much time checking out the features of a car. It's Mini Canada's Dominate Winter campaign.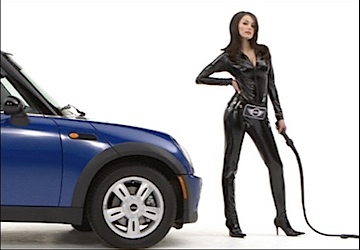 Go ahead, click around the site. They come right out and say it. I'm wondering if they're trying to appeal to submissive men or dominant women with this campaign.
When you click around the site you can choose the angle you want to see the car (assume the position) and click on various features of the Mini as the voiceover talks about kink just as much as the car itself. A few lines:

"A heated windshield helps avoid lots of scraping..unless of course you enjoy lots of scraping."
"…and avoid whiplash, but not the good kind of whiplash"
"…think of it as, consensual cornering."
"…and who doesn't like rubber and friction".
"..heated seats… please insert your own double entendre"
"Sadly, it takes the kink out of icy roads."
Meanwhile she walks around the car spanking it, flogging it and playing with the antenna as seductively as one can. To hell with puppy or pony play, I wanna be a mini cooper (no small penis jokes please).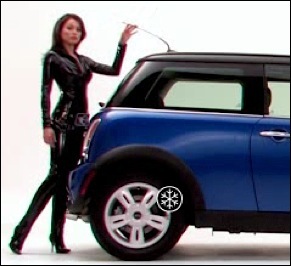 Do you think campaigns like this help or hurt the BDSM lifestyle? On one hand it shows that being a dominant woman isn't something to be ashamed of, quite the opposite. Would you rather have a busty cheerleader showing off the car or a woman who appears to be confident and knows what she wants?
Thoughts?