I was walking up 8th Ave recently and something jumped out at me close to 46th.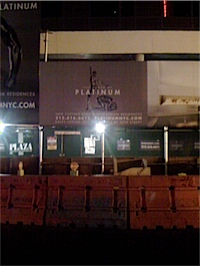 Taking a closer look…..
It's an image of an athletic naked woman proudly standing above a kneeling man. Ok it's more of a cower than a kneel but still!
I took a look at the website and found nothing in regards to a condo filled with dominant women.
They do have a "lifestyle" section though, but it only shows amenities like pool tables and such. No mention of spanking benches, thrones or medical tables.
What gives?
If I were to win the lottery and buy a place there, could I sue for false advertising?
"Hey, I was under the impression there would be a silver-painted Domme hovering over me!"