As I've mentioned before I've had submissive tendencies for as long as I can remember.  While the earliest of these revolved around Wonder Woman and Daisy Duke I was recently reminded of another big "Ah ha" moment when I was growing up.
X-Men #170
The big trigger revolved around the main plot.  The leader off a band of subterrainian mutants, Callisto, kidnaps the X-man Angel  to take him as her mate.
I found two panels that really did it for me. )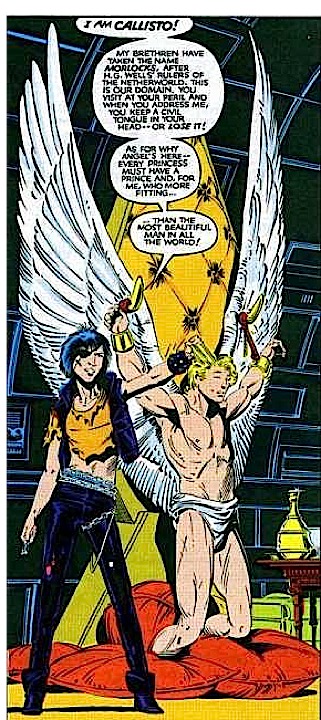 The first is an image of Callisto having pierced Angel's wings and bound him to a wall.  In the panel she declares..well a bunch of stuff but the key is:
"As for why Angel's here — every princess must have her prince and as for me who more fitting ..than the most beautiful man in the world"
I read this long before I even knew what sex was but I must have looked at this a billion times and never wanted to be a superhero as much ad I did then.
But it gets better.
(Wait I should say right here that I know Angel eventually loses his wings due to this scene but it wasn't that obvious at the time and..there's no blood here or anything and besides I was a kid)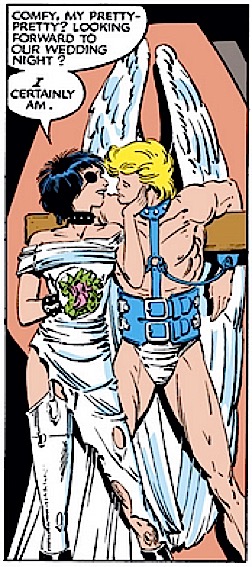 And yeah..it gets better.
Pretty blatantly She looks at him, holding his face and says:
"Comfy my pretty-pretty? Looking forward to our wedding night? I certainly am."
Again I'm a kid, I didn't know exactly what happened on the wedding night but I knew SOMETHING happened and it involved nakedness.
Later Storm fights Callisto, kicks her ass and frees Angel.  So essentially two women are fighting over him and the kid version of me didn't know it but this idea was going to define my kind of D/s.   A strong dominant woman desires me so much that she's willing to take me for herself, slap me up on a wall and while it may hurt she doesn't want me injured so much that I can't fuck…I just cant' fly.  Wait that came out all wrong but you get the idea.
No bit of femdom porn would define my sexuality as much as this and other slightly-similar scenes would.