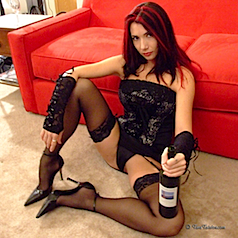 The best of this week's blogs by the bloggers who blog them. Highlighting the top 3 posts as chosen by Sugasm participants. Want in Sugasm #108? Submit a link to your best post of the week using this form.Participants, repost the link list within a week and you're all set.
This Week's Picks
Half-Nekkid Blow Job
" We could hear people walking past and talking so they'd be able to hear us as well."
Masturbation on a Memory
"I let the first time I had sex with your flash back though my mind."
Reality Check: Handling Long Calls
"While I get my share of quick cummer calls I have several clients that like to talk for hours."
Mr. Sugasm Himself
Christian Friis
Editor's Choice
A Non-Monogamy Lexicon
More Sugasm
Join the Sugasm
See also: Fleshbot's Sex Blog Roundup each Tuesday and Friday.
(Sugasm participants should re-post all the links above within a week. The following links may be excluded as long as you include all the above links.)
Erotic Writing and Experiences
Bad Girl
The Driving Lesson
The First Date part one
Flirt
Late Meeting
Night Call
Over the tub
Saturday night special
Sweet Dreams
Sex Advice
Bringing It Up Gracefully
I Don't Need Porn, I Get Real Sex!
Prince Albert for thanksgiving
NSFW Pics & Videos
Aria Giovanni sexy video
Catalina loves her New Black Silk Corset and Boots
Pornsaint Popwhore
WebMistress Feature Gallery: Flirting with the Camera
BDSM & Fetish
Big Fun in a Small Space
Double Dip Part 2
I don't chase
Ideas of my own.
My Reformatory Birching
The Perfect Implement of Pain
Rope as a tool for Intimacy
She Came In Wearing A Corset, Stockings, And A Smile
YouPorn, MePorn
Sex News & Reviews
Fetish Film – Julie Simone's Diary Of A Submissive (Bondage, Spanking, Femdom)
Five Sips of Darkness
Special Discount for Our Naughty Friends!
Sex Poetry
Tulips… His lips… Her lips…
Thoughts on Sex and Relationships
Me and My Vagina
Oh..oh…oh! My orgasm- A User's Guide.
On Self Image and Confidence
An orgasm faker wannabe
Relationship Rules
Retail Therapy
Sex Humor
Decoding A Dominant Personal Ad
Happy Thanksgiving!