This is crazy.   I had no clue I was gay until I conversed with a woman recently who suggested I was into guys because I like the idea of a woman with a strap-on.    
Then, a reader sent me a link to this video (fast forward to 2:20)
Anna David does try to say that it only matters who you kiss but then says it's "on the line" (of making me gay??) and that most women would be freaked out by it.
Based on this logic, any lesbian who likes strap-on play with her female partner is really heterosexual.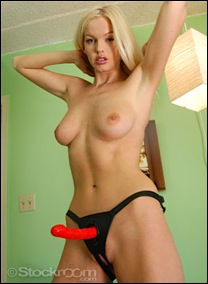 And to think that I've been fooling myself by looking at images like this and thinking I was heterosexual all this time.